The Top 4 Tips for Successful Home Selling in Autumn
Posted by Huntington Real Estate Group on Wednesday, July 17, 2019 at 9:00 AM
By Huntington Real Estate Group / July 17, 2019
Comment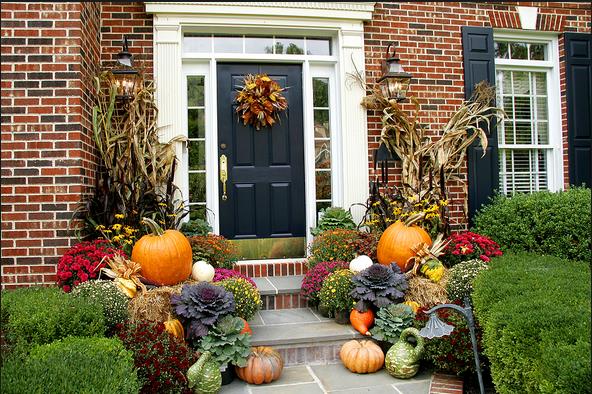 You might assume that showcasing a home during the fall season is not the best idea; perhaps it reminds you of gray skies, less daylight and rain or even an early snowfall.
In actuality, the fall season has very unique characteristics. Fall is the season where you can gather your family and friends around a crackling fireplace, or come together around a fire pit in the backyard. The bright colors of fall are also a great way to increase curb appeal, and a great inspiration for cozy décor. Fall is also a season when buyers are more motivated to move before the coming winter.
Thinking of selling? Here are our four tips for selling your home successfully this fall season:
1. Decorate Your Home For the Season
Some of the charming autumn decorations you can dress up your home with are pumpkins, gourds, and a brightly-colored mat for your front door. A wreath with fall inspired colors like red, orange and yellow colors could also be a great addition for your front door.
2. Lighting
We already know that there is less sunlight during this season, so remember to leave the lights on for showings. Open your curtains, and don't forget to clean the windows. Bringing in as much natural light as possible will help buyers to visualize the home in warmer months.
3. Ventilation
Open your windows occasionally to let in some fresh air. You may tend to keep the windows shut as the temperature starts to cool down, but remember that closed homes and moisture tend to hold odors and molds. Use fans in the bathrooms and kitchens to keep the air circulating so buyers don't find the air stale.
4. Declutter
The cooler weather tends to keep homeowners and guests indoors, which may cause the home to feel more disorganized and cluttered. When showing your home, take special care of the front hallway; organize and put away boots and coats. You can also put a basket in every room so if there's a showing; if clutter builds up, put these things inside the basket before you leave the premises. Store the basket underneath the bed, inside the closet or somewhere out of sight.
Even though autumn is one of the cooler seasons, that doesn't mean your home can't feel warm and inviting. Be sure to follow these steps to keep your home organized and bright; this way buyers can enjoy their tours and visualize your home in any season.
Get access to bank foreclosures, company owned homes, pre-foreclosures and other distressed sales at www.SearchHousesInSaltLakeCounty.com
Find out what your home is worth, visit www.UtahSmartHomePrice.com
Order our Free report on the 7 Costly Home Seller Mistakes That Could Cost You Thousands When You Sell Your Home at www.MySellingMistakes.com