4 Home Improvement Mistakes to Avoid
Posted by Huntington Real Estate Group on Wednesday, June 10, 2020 at 9:00 AM
By Huntington Real Estate Group / June 10, 2020
Comment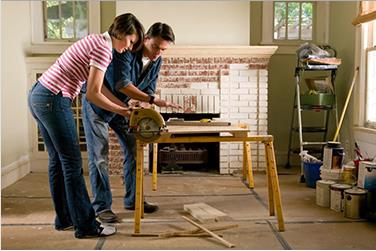 1. Planting Trees Near the Driveway
Planting trees and shrubs in your front lawn can improve your home's natural curb appeal, especially when they line your sidewalks or driveway. However, it is important that home owner's make sure they plan their potting out properly, so as not to have overgrowth that blocks driveways or paths.
Keep in mind that roots will grow outward as the trees grow taller, causing the concrete to lift or crack. It can become quite a costly expense if you have to uproot your trees or have your driveway re-done. If you are planning on planting trees along your driveway, it is recommended to choose species that will remain under 20 feet when they reach maturity. If they're bigger, plant them at least ten to fifteen feet away from your concrete driveway.
2. Too Much Mulching
Giving your gardens a new layer of mulching is a great way to increase its curb appeal. As a note, the general recommended mulching depth is around two to four inches. Using too much mulch will either prevent water from penetrating into the soil or suffocate the plants. This is caused by excess moisture becoming trapped beneath the surface, which can cause roots and base stems to rot leading to insect and disease problems.
If your mulch is piling up against stems or tree trunks, make sure to pull it back several inches so that the base of the trunk and the root crown of the plants are exposed.
3. Forgetting to Weather-Proof
You may have completed a lot of outdoor projects that make your home look great, but are they able to protect the inside? Weatherproofing your home is just as important as making it look good to potential buyers, and the investments you'll make will be much more worth it.
If you're installing new window frames, make sure that they're the right type for the weather in the area, and make sure that they're free of small drafts. If you're looking to increase the curb appeal of your home, choose projects that take care of multiple things including attractiveness and safety.
4. Too Much Re-painting
To avoid peeling or cracked paint on the outside of your home, be sure to cautiously use a power washer and sander prior to re-painting. This is especially important for older homes that have aged paint that it much more brittle and likely to crack and fall apart.
Some home owners choose to simply re-apply paint to their homes before removing old layers or dirt. You will want to remove this buildup of dust, cobwebs and dust prior to painting or else you may find that the paint does not adhere as well. Do not re-paint the outside of the home before giving it a good cleaning.
Looking for a valuation on your home? Allow us to help you figure out the worth of your home and get your on the right track!
Get access to bank foreclosures, company owned homes, pre-foreclosures and other distressed sales at www.SearchHousesInSaltLakeCounty.com
Find out what your home is worth, visit www.UtahSmartHomePrice.com