10 Tips to Prepare Your Kids for a Move
Posted by Huntington Real Estate Group on Wednesday, February 12, 2020 at 9:00 AM
By Huntington Real Estate Group / February 12, 2020
Comment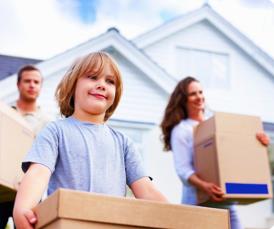 You may be ready to move, but are your children? Re-locating isn't always as easy for kids, so consider these 10 tips that will help to better prepare them and make the experience more enjoyable:
1. Tell your children about the upcoming move
It is best to tell your children about your thoughts of moving ahead of time. Respect their opinions, and allow them to fully understand and come to terms with the move and everything that comes with it. You are making the move as a family, so everyone should be included.
2. Openly discuss the advantages and disadvantages of moving
Having multiple discussions about the move in a way that is specific to their age, maturity and understanding will help them to ask questions and feel confident talking about it. Assure your children that you will help them adjust to a new environment, but allow them to be open about their doubts or fears with moving.
3. Encourage your children to check out your new community
Most cities and towns now have their own websites, which promote their community. In addition to the lifestyle information, you will also find lists for local parks, shopping malls, movie theaters, and special attractions. Visiting and familiarizing your kids with the new area will help them to become excited about the move.
4. Make packing fun and effective
Make packing an exciting time for your children by encouraging them to clean out their old toys and give to charity. They can sort them into three piles: The first pile can come with them to the new home, the second pile will be for donating to a local shelter and the third pile will be for toys they understand that are beyond repair and that should be thrown away.
5. Pack young children's belongings last
Packing all of your child's things too soon isn't as efficient as you would think. Make sure that you allow them to have access to their familiar possessions to help them reduce their anxiety, or keep one box of their favorite things nearby at the very least.
6. Take your children to visit your new home
Allow your kids to have at least one or two visits to the house prior to moving day and keep the visit positive. Show them what room will be theirs, talk about paint colors and let them explore the rest of the house.
7. Throw a "Moving party"
This is a great idea whether you're moving a short or long distance away. If you're moving further away, be sure that they take pictures with each of their guests, and let them each keep a copy. Moving can be difficult, but taking the steps to show your kids that they're still your most prized possession will help the process.
8. Meet the Neighbors
If you're moving in the summer, your child may have a hard time making new friends while school is out. Help them to take some steps by asking your neighbors if they have children of same age, and if they are interested in allowing them to play with your children during a supervised play date at the local park.
9. Organize a "Family Exploring Day"
Let your children be involved in planning an afternoon walk or scenic driving in your new community. This will help them familiarize themselves with the surroundings and your family will also be creating fun, new memories in your new home.
10. Let your Kids Decorate
Your children should have some sort of ideas in designing your new home. It can be a color of the wall or a spot where can they place their toys. Allow them to really feel like this new place is just as much for them as it is for you, and make is known that they have a say in the way it looks.
Moving can be tough for kids, but don't become frustrated with them during the process. This may be one of their first moves, so view it as a new adventure you're having together, and make it memorable for everyone.
Get access to bank foreclosures, company owned homes, pre-foreclosures and other distressed sales at www.SearchHousesInSaltLakeCounty.com
Find out what your home is worth, visit www.UtahSmartHomePrice.com